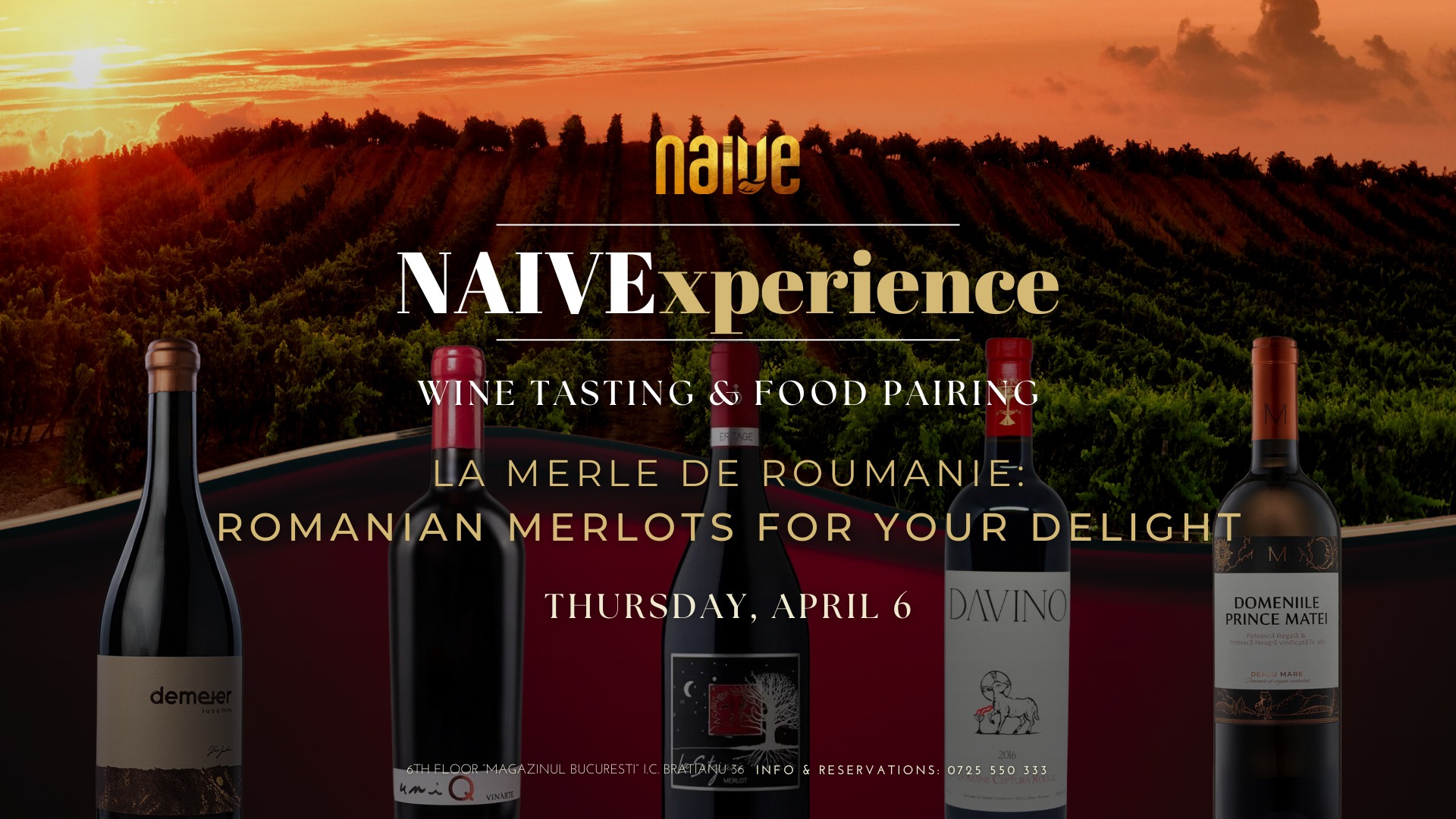 NAIVExperience - Wine tasting & Food pairing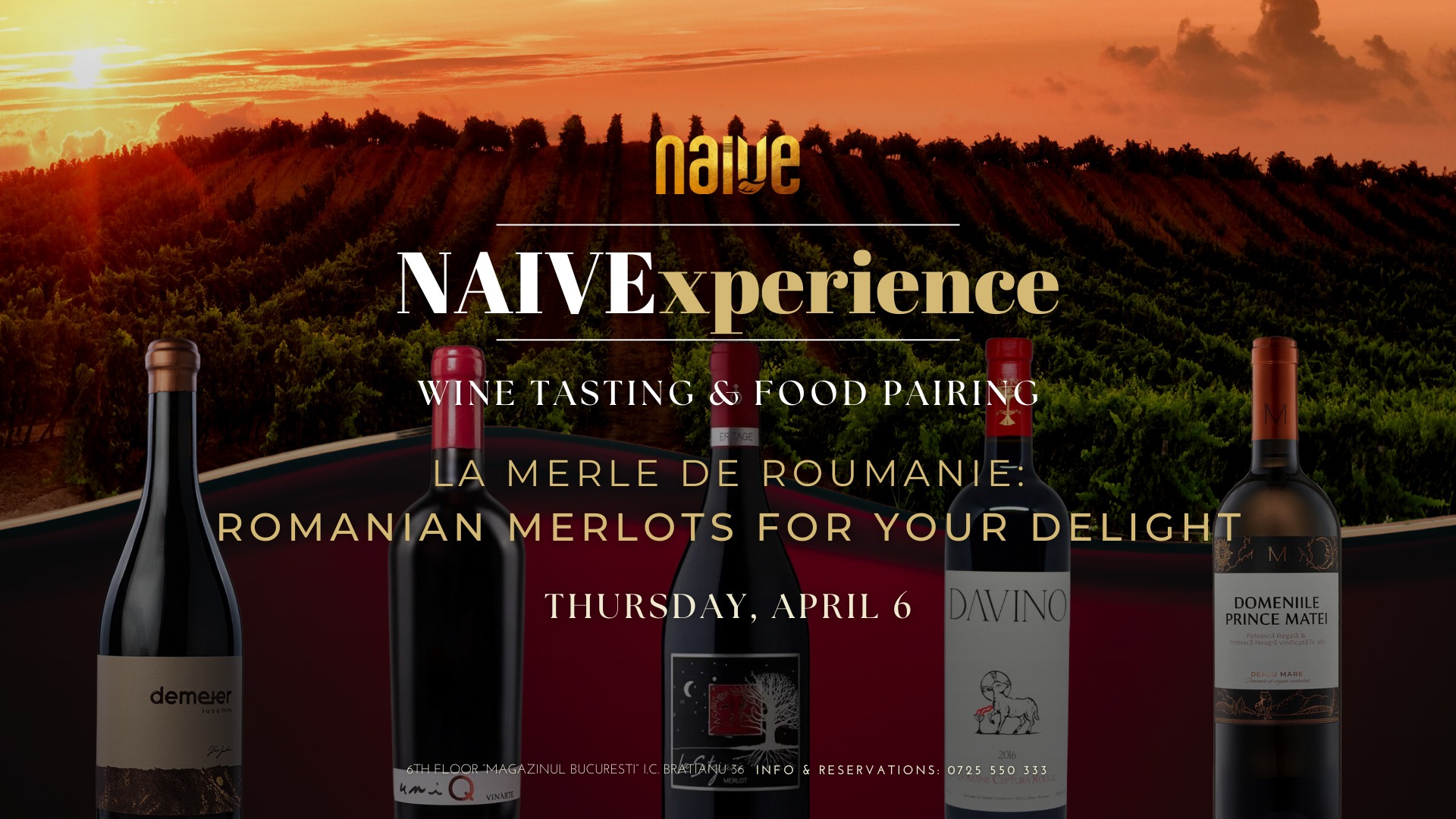 Share
Preț meniu degustare/ persoana: 230 RON
We are NAIVE, we are here to give you once in a lifetime experiences!
• The complete NAIVE feel is the art of mixing the best ingredients so as to offer you both food for the soul, but also delight for the body.
• Xperience at NAIVE means to combine the best view in town with state of the art interior and greatest wine&food pairing.
• Thursday, April 6, we will have the rare opportunity to have together some of the greatest romanian wines of all time. All of them are Merlot or containing Merlot, one of the most cultivated and probably the best red wine grape in the world. All the wines will be accompanied by dishes specially made for the best pairing experience
Food pairing:
All the dishes will be carefully in-house made by our Chef:
WELCOME DRINK: ROMANIAN SPARKLING
OLTENIA/ VINALTUS DEMETER i.u.s.o. FN/ M
DEALU MARE/ DAVINO - CUVEE CEPTURA ROUGE
DEALU MARE/ DOMENIILE PRINCE MATEI - PRINCE MATEI
BANAT/ CRAMELE RECAS LA STEJARI MERLOT
OLTENIA/ MEHEDINTI VINARTE UNIQ
FOOD PAIRING:
Amuse bouche
Mangalita pate, beetroot jelly, mustard sauce
Mangalita pork neck, smashed potatoes with truffle and baked pepper sauce
Pork cheek, parsnip puree, demiglace sauce and crispy leek
Plate of matured cheeses, dried fruits and nuts
WELCOME DRINK: ROMANIAN SPARKLING
OLTENIA/ VINALTUS DEMETER i.u.s.o. FN/ M
DEALU MARE/ DAVINO - CUVEE CEPTURA ROUGE
DEALU MARE/ DOMENIILE PRINCE MATEI - PRINCE MATEI
BANAT/ CRAMELE RECAS LA STEJARI MERLOT
OLTENIA/ MEHEDINTI VINARTE UNIQ
FOOD PAIRING:
Amuse bouche
Pate mangalita, jeleu de Sfecla, sos de mustar
Ceafa de porc Mangalita, piure cu trufe si sos de ardei copt
Obrajor de porc, piure de pastarnac, sos demiglace si praz crocant
Platou branzeturi maturate, fructe uscate si nuci
Hours: 18:30PM - 21:00PM
Preț meniu degustare/ persoana: 230 RON
Tasting menu price/ person: 230 RON
Book your table 0725 550 333
6th floor "Magazinul Bucuresti" I.C. BRATIANU 36